PureXperia ROM for CANVAS 2 PLUS
Xperia C modded ROM
FEATURES
->Xperia Launcher
->Awesome Themes
->Xperia Z1 Apps
->Xperia Z1 Settings
->Latest Xperia Z1 Keyboard
->Xperia Z1 Wallpapers
->Xperia Z1 Live Walls
->Multiple small apps
->Multi-Window
->Super Smooth Scrolling
->Aroma Installer
->RAM management improved
->Aroma Installer
->Battery Life improvement
You need system partition to use this ROM. If you have not made it refer here:
http://www.droidarena.in/Thread-Increase...Plus-A110Q
BUGS:-
1. Dialer is misaligned. Will be fixed soon.
PureXperia Full ROM:
Download:
Pure Xperia
Mirror:-https://copy.com/mdOHACRNVqk7
Fix for boot logo:-
http://d-h.st/lg3
Procedure:
1. Make CWM backup before installing.
2. Put zip file in sdcard.
3. Wipe Data/Factory Reset and wipe cache partition.
4. Go to advanced and wipe dalvik cache.
5. Go to mounts and storage and FORMAT SYSTEM
6. Install zip from sdcard. Select rom file and select YES. WAit for a few minutes till installing
7.During installation power button is for selection..
8. Reboot sytem.. First boot might take a few minutes. Dont panic.
Disclaimer :
I will not be responsible if you Brick your device. Flash At Your Own Risk.
Screenshots: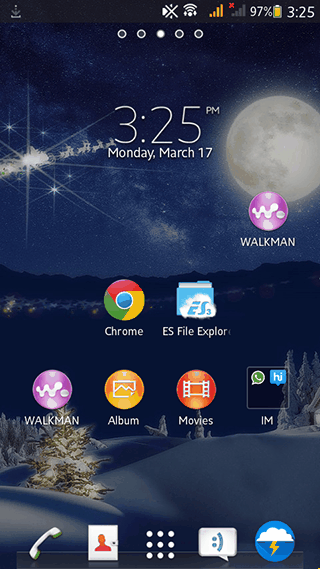 FAQ:
Q-How to enable keypad Backlight?
A- Goto>Settings>Display>Touchpad Backlight
Q-Viper effects Not Working?
A- just uninstall / delete soundenhancement.apk from /system/app/
Q-How to switch between Notification Panel and Quick Settings?
A-Drag from left side of center clock for Notification Panel and from Right side for Quick Settings
Addons:
Modern Black Style Settings
Download:
https://docs.google.com/file/d/0BwbIKpGK...cslist_api
For better performance flash this:
http://d-h.st/fZv
For Launcher as shown in screenshot:
Copy the given apk in system/app and apply permissions as rw-r-r
http://d-h.st/y28
Rate me +1 if I helped you